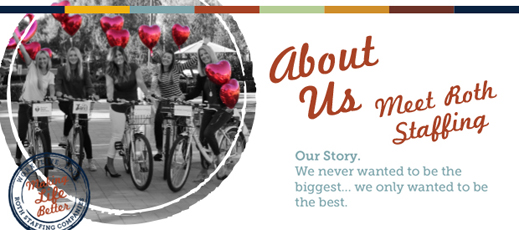 (Pictured: Team Irvine supporting "Go Red" Heart Week)


It all started in August 1994 with one small office in Newport Beach, CA and a vision to change the way the staffing industry does business.
Today, the Roth Staffing family of companies consists of Ultimate Staffing Services, Ledgent Finance & Accounting, Adams & Martin Group, Ledgent Technology, and About Talent. The company is affiliated with Ultimate Locum Tenens. 
We knew our business gave us an opportunity to do good things for others and a responsibility to always do the right thing. By keeping these philosophies at the forefront of everything we did, businesses and Ambassadors quickly became raving fans. We never expected that it would result in unprecedented growth and success.
Read More: http://rothstaffing.com/company/story.php