Job Overview
Industry:
Sales - Marketing
Job Type:
Sales
Location:
US-AL-Bessemer

Report This Job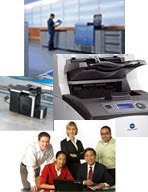 Senior Account Executive - Major Accounts
Job Description
Konica Minolta Business Solutions U.S.A., Inc. has exciting opportunities for experienced copier / printer outside sales representatives!!

For seasoned candidates with proven sales experience, we offer sales programs and a career path that will keep you challenged and growing. All success is well rewarded!

These outside business-to-business sales opportunities include responsibility to:

Meet or exceed monthly sales objectives.

Provide customers with the highest standard of customer service through follow up contact and consultation after the sale to protect and grow market share in assigned territory.

Maintain cooperative working relationships with all necessary departments to ensure sales are generated and are processed efficiently to achieve customer satisfaction.

Contact cold and warm prospective customers through a combination of telephone and in person contacts to obtain appointments for sales meetings, prepare presentations and proposals.

Close sales, gather all detailed information, and develop a sales plan for the account.

Job Requirements
Minimum of 4 years related industry experience (copiers/printers preferred and High Volume and Production Print strongly preferred) but other high tech industry experience will be considered

History of success (prior sales experience, grades, part time employment, internships, awards, etc).

Effective customer relations.

A driven, decisive, organized and results oriented approach.

A strong knowledge of document imaging products and general office computing.

Presentation, organization and interpersonal skills that set you apart

PC hardware and software expertise is required

Experienced salespeople will be requested to provide details about their successes.

Konica Minolta offers an attractive compensation package, which includes:

Excellent salary, commissions, bonuses and expense allowance.

Outstanding benefits package (incl. medical, dental, life insurance)

401(k) plan with matching company contribution

Excellent holiday/vacation plans.

Tuition reimbursement.

Employee Referral Bonus Program.

Ongoing training opportunities.

State-of-the-art office products

Visible, exciting work supporting the sales of cutting edge technology and workflow solutions.
Konica Minolta is Proud to be an Equal Opportunity Employer M/F/V/D Committed to Affirmative Action.